Once again I back with with the latest Working Airtel TCP 53 port on Airtel BBM Trick here is another new high speed config forTCP 53 config. TCP 53 is Working all over India on BBM Trick and also directly in some states. Recently we shared Duck VPN for using internet via TCP 53 but there are certain limitations such as you need to register in every 5 days and etc, Hence Here we are sharing a new VPN config for TCP 53 which will only work in NMD VPN and Android device. There is no bandwidth and speed restrictions in the new TCP 53 Config, you should have BBM plan activated on your Airtel number to enjoy benefit of this TCP Tricks.
This is completely new Un-shared VPN config. Seed is much after as compared with other TCP configs. Lots of Tricks sharing blogs have posted the TCP 53 config but only very few of them works. This New Airtel TCP 53 BBM Trick with NMD VPN Config is working like a charm in every state. We have tested it in Maharashtra and UP east. It is predicted to be working in Delhi and W.B. You just need t have a Airtel 3G SIM with BBM Activated on it. Lets see its features.
Benefits of Airtel TCP 53 BBM NMD VPN Trick
Truly Unlimited bandwidth VPN

No need to Re Register in 5 or 7 days.

based on TCP 53 config (USA Server)

No Speed Limitations and Restrictions

confirmed Working all over India

Also working without BBM plan (Only in some states)

you can use this config with Feat VPN for Android to make this trick work on Android Phones.

Torrents are also supported

Download speed is 200-300 kbps on 3G Mode.
Steps to connect with Airtel TCP 53 BBM Trick:
Here is the simple procedure to connect with Airtel TCP 53 BBM NMD VPN Config.You will need to download our config, register on VPN service (Free-One time registration) and connect the config with NMD VPN. If you are a newbie then its better to see this Airtel BBM Tutorial before implementing here.
Download NMD VPN

Now check your email and activate your Free VPN service.

That's It! Download the Airtel Modified TCP 53 config from below link and replace your username (email) and password.




Note:you get following error after opening the link so just go to this site

blockedsiteaccess.com

and enter link to get download with in no time the trick is working 100% so enjoy before it get blocked.

The URL you requested has been blocked as per DOT/HIGH COURT guidelines

URL = fun2alot.wapka.mobi/download-110-eb80b911347bceb879f6/New+Airtel+TCP+53+Config-Superfast-AirtelTrickz.rar

now extract it and enter your user and pass in pass.txt file
Copy the config and paste it into C:> Program files:> NMD VPN:> Config:

Run NMD VPN as Administrator

now connect with the downloaded config and NMD VPN will initiate tunnel connection instantly.

You will be connected in few seconds, check out the below screenshots for proof.


Screenshot of the trick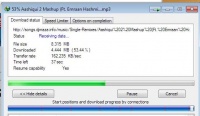 The Airtel BBM trick is in hike ll over India. after the blockage of UDP port from Airtel The same trick is working on TCP 53. this new config is completely new and is not shared anywhere else on the net, We do not put Fileice Survey on any tricks. However if you are facing error while downloading you can request this trick via Emails.
Airtel TCP 53 BBM Trick is predicted to be working all over India. We have tested it in MH, GUJ, Delhi, UP east. Do let us know if you are facing any problems, I will try my level best to resolve it at earliest and Like us on Facebook to Get yourself updated.